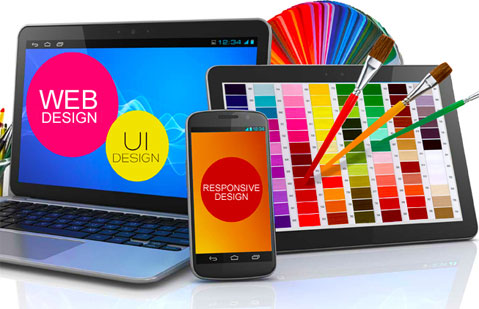 In today's era, when everything has become technologically advanced, people research online about everything they want to buy, be it services or products/goods. In such a scenario, it becomes extremely crucial for any company to have a perfect website, be it in terms of appearance, layout, content, design or themes. Any website, for that matter, becomes the first step leading to the success story of that company. We, at Mark Infotech, pay attention to all the technical aspects without forgetting the unconscious needs of our clients and their clients. Thus, we provide complete solution to own a website which is not only as per the needs of our clients but also, what sometimes they do not pay much attention to.
Looking the trend of people going wireless, we offer responsive sites that are mobile friendly, adjust to your iPad and tablets. So now, let your customer enjoying reading about you on the move.
The web designing process at Mark Infotech includes the discovery phase that allows the designers of our company to determine the scope of website designing. Here we understand the fact that a thorough understanding of the requirements of any company is important to offer the finished web design that the company expects. On the basis of this theory, the designers of our company create some unique layouts. Here we work with the goal to offer our clients the custom website design that enables them to start apart from their competitors. So, no matter what type of site you may have, we specialize only in offering the best solutions.