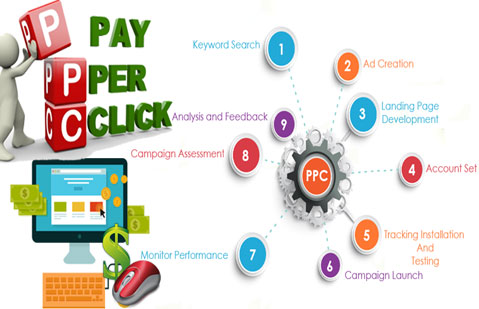 According to MarketingTerms.com, "Pay-Per-Click is an online advertising payment model in which payment is based solely on qualifying click-through." For search engine marketing, PPC is the best way while being affordable at the same time to attract traffic on the site. Mark Infotech provides its clients effectual Pay Per Click services to drive maximum traffic to their website which would enhance workability as well as business potential for the company. It works on the basis of the keywords, that is, the clients bid on certain keywords and pay the bid price when anyone clicks on their link. So, maximize your returns right away!
Mark Infotech has an experienced and professional team of PPC experts who engage themselves in the thorough research and development for making the pay per click campaign of every client highly successful in terms of results and the ROI or Return On investment. Here we consider quality research as an important part of success in every aspect of business. When it comes to pay per click campaign, the research backed PPC experts of this web solution provider company assist their clients to distinguish themselves from their competitors. We also offer customized PPC management solutions on the basis of long term business goals.
Our PPC experts are Google certified. Call us now for a free consultation. Be it any domain. Let it show off on Google.